I told you before my trip that I had some
big news
to share. And now that I'm back and have sorted out some of the details, I thought I'd let you know what I'm so geeked out over.
Well... (drum roll please)
with the 1st chapter to be formed in Utah!
Exciting, right?! Now you are probably wondering- why
Train 4 Autism
? I think I'll explain in a list, since you all know I love lists. ;)
I don't really talk about my kids much on this blog (other than the random comments about how precious and exhausting mommyhood can be). It's always just been a place to talk about running. A getaway of sorts. However, in order for you to understand my interest in autism awareness you should know that my oldest son, Coleman, was diagnosed with autism in 2005, when he was just 3 yrs old. It is something that affects my life everyday.
There is a LOT going on in the world of autism, from researchers looking for a cure for autism to dozens of different types of therapies to help children and adults living with autism cope in their daily lives. With Train 4 Autism, you get to help fund the cause that is most important to you, be it national autism awareness programs or a local school in need of therapeutic toys. (<----This totally sold me. You get to pick the charity that you feel most passionate about.)
Train 4 Autism is set up in such a way that- YOU choose the sport, YOU choose the race, and YOU choose the cause. There is no other program quite like it.
Basically, the work that is being done by Train 4 Autism spoke to my soul. As a runner. As a mother. I knew I had to be involved.
I first heard of Train 4 Autism on
Redhead Morgan's blog
where she talked about Operation Jack.
Operation Jack
is Sam Felsenfeld's journey to running 60 marathons in one year in order to raise awareness of Train 4 Autism's plight. Amazing! His own son, Jack, is his inspiration. This is from his website:
After watching his son struggle day after day with his condition, Sam decided he wanted to do something to make a difference in his honor. His plan is Operation Jack. If Operation Jack succeeds, Train 4 Autism will grow and countless people living with autism — along with their relatives and friends — will benefit for years to come.
How's that for taking action?! Sam has dedicated an entire year of his life in order to help Train 4 Autism grow. I am truly inspired by him and realize that if he can run 60 marathons in one year, I can certainly do my part by raising awareness in my own community.
Ok. This is where I tell you about
my first giveaway!
I've seen many people talking about the music on their iPods lately. Seems like we're always looking for new songs to help us through our workouts. Maybe it's spring fever. I don't know but I do know that you could all use-
$25 to iTunes!!!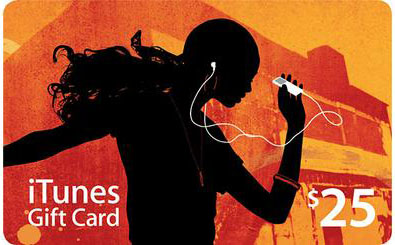 That's right! With $25 you could completely overhaul your playlists! Ok, well maybe not completely, but $25 worth of music is enough to run over an hour and a half while listening to all new tunage! No more drudgery listening to the Rocky theme over and over and over. Ha ha! And if you don't have an iPod, I bet you know someone that does! What a great gift it would be! (Have I sold you on it enough yet?)
Here's how you gain entries into my giveaway:
Become a follower here on my blog. Leave a comment telling me you are a follower.
Post this giveaway on your blog, on Facebook, or tweet it on Twitter. Leave separate comments for each one. (3 possible entries)
Become a fan of Train 4 Autism-Utah County Chapter on Facebook HERE. Leave me a comment telling me you are a fan.
Become a fan of Operation Jack on Facebook HERE. Leave a comment.
Just SPREAD THE WORD! If you do anything to spread the word of Train 4 Autism or Operation Jack, let me know in separate comments for extra entries!
This giveaway is all about raising awareness. There are so many people out there just like me that may want to be involved with Train 4 Autism but they have never had the chance to hear of it. This is your chance to help out! Even if Train 4 Autism isn't something you are necessarily passionate about, you never know which of your Facebook friends might see it and want to be involved so
make some noise
, friends! Thank you guys SO much for your support. I love all the friends I've made through this blog and feel blessed to share in all your journeys.
I'll be choosing a winner for this giveaway, by random number generator, on March 18th- in one week! Good luck!